Besides the required IT knowledge, we have extensive industry and process know-how, which has been accumulated over the past 22 years in the course of many projects. During this period, both small and medium-sized projects as well as multi-year enterprise projects were planned, implemented and supported. A characteristic feature of our services is a partnership approach with the aim of maximizing customer satisfaction. In order to guarantee this throughout, our services are always based on modern, innovative, efficient and sustainable software development methods and technologies.
We modernize and optimize the core processes of companies with our services. These include:
Research and Development
Procurement
Logistics
Production
Service
Within the scope of cooperations in the industrial environment, especially in mechanical and plant engineering, we also contribute our range of services as a research and development partner. In this context we provide support in close cooperation not only on the software level but also on the system level (e.g. with regard to the interaction of sensor technology, embedded systems and IoT Gateway). If you are interested in a research and development cooperation, please do not hesitate to contact us.
Our range of services includes support in all phases of IT projects. This includes the following areas: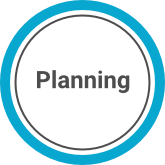 Our services in the phase of project planning include:
Consulting
Process analysis
Process modelling
Requirement analysis
Development of classic requirement specifications or development of a product vision and a backlog with epic stories and other artifacts for an agile project design
Further information on project planning

Within the project realization we offer services in the areas of design and implementation.
Our services in the field of design include :
Architecture development
Frontend design
Backend design
System design in an industrial context
Design of process environments using developed application, system or platform architectures
Service/API design in the context of complex platforms
The implementation phase includes the following aspects:
Frontend implementation
Backend and platform implementation
System implementation in an industrial context
Implementation of specific private cloud instances
Development and deployment of architecture, design, application, API, platform or system documentation
Further information on project implementation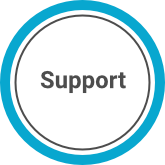 Within the project support our services include:
Going live and initial operation
Provision of second level support
Provision of third level support
Administration and support of runtime environments
Further information on project support